CBD oil is becoming all the rage lately. And it's no wonder – it's helping people get relief from chronic issues such as: anxiety, depression, fibromyalgia, pain, seizures, and is even helping people sleep better. Those are just a few of the many benefits of CBD oil. But where should you buy CBD oil? In the Amazon Prime economy, Amazon is likely the first place a lot of people look when shopping for CBD oil, but that is a huge mistake. Like oil and water – they just don't mix.
Let's look at why you should not buy CBD oil on Amazon
First and foremost: Amazon does NOT allow the sale of CBD oil on their platform. I know this doesn't make sense, because the individuals are selling products on the platform under the key term, "CBD Oil." It's unclear why Amazon doesn't allow the sale of CBD products, but will still allow sellers to use the keywords to trick customers into thinking the products are actually CBD. Amazon's Seller Central Platform explicitly prohibits the sell of CBD products. This isn't exclusive to CBD though. Amazon will return search results for other products banned on the platform as well, such as cigarettes and drug paraphernalia.
So what are the products listed on Amazon?
Anything you see listed on Amazon is likely nothing more than hemp seed oil, and even if a seller managed to slip by the Amazon gatekeepers with an actual CBD product, there is no way to know for certain its integrity. You should only buy CBD from sources that provide third party lab results.
One Amazon, one seller is running ads under the key word "CBD Oil," but when you view their product listing it says…
"The hemp oil extract is made with organic hemp seed and stalk, contains the essential fatty acids omega 3, 6 and 9. Which play important roles in supporting your immune system and overall joint, heart and brain health."
Notice it says the product is made from hemp seeds and stalks. True Hemp Extract Oil (CBD) is made with the full plant, including the flower! The "flower" of the plant is the part that is rich in CBD and other cannabinoids.
Somebody who is new to CBD and might be price sensitive will likely gravitate to the items on Amazon because of the low price. When it comes to CBD products, you really do get what you pay for. There is a reason why CBD is so expensive though. I wrote an entire blog post about it. It all comes down to the quality of the product, the labor involved, and the amount of time it takes to grow and extract the product.
Fraud abounds on Amazon
I have already seen other CBD brands have their products replicated in appearance and sold on the platform from third parties. When you have third party sellers (which makes up a majority of Amazon) there is no way you can possibly know where the product actually originated. Even if the brand you are buying on the platform is authentic, it might not be coming from the actual supplier.
How to spot third party sellers: Third party sellers aren't always bad. When it's the actual brand selling the product, you have nothing to worry about. Unless what they are selling you is not high quality. When searching Amazon, look under the price of the item, you will see who sells the product, and who fulfills it.
Sometimes Amazon fulfills the item, other times the person selling it does. When viewing the listing, it will say something like: "Sold by Company Name and Fulfilled by Amazon."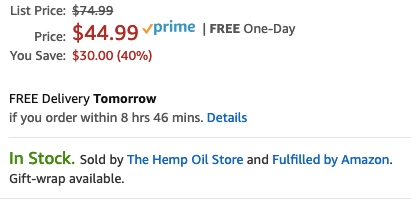 In The example given here, you see that the seller is, "The Hemp Oil Store" and Amazon ships the item from their warehouse. Upon viewing the actual item, it appears to be a legit CBD product, but the person selling the item is not the supplier in this case. The listing shown here is for a brand not owned by The Hemp Oil Store. It's typically advised to be aware of this when purchasing anything on Amazon, not just CBD oil.
Let look at one more example of this with a non-CBD brand.
I was a co-founder of Bearded Brothers energy bars. We constantly had problems with third party sellers purchasing our products from a distributor and selling them on Amazon.
In this example, the seller is etailz, and they are also shipping the product in this instance. We would always have problems with third party sellers selling expired or damaged products. The end result was unhappy customers, all because they unknowingly bought expired product from third party sellers. I don't know that etailz is doing this, but issues like this are common problems with third party sellers on Amazon.

What is the difference in hemp oil and CBD oil
Okay, so Amazon only sells "hemp oil" – isn't that pretty much the same thing as CBD? The answer is, no! They are very different. CBD oil is produced from the entire plant (except for the stalk) including the flower, which is what contains all the beneficial cannabinoids. Hemp seed oil is only produced from the seeds and/or stalks. If you want to take a deeper dive, you can check out my post about the difference in hemp oil and CBD oil.
Simply put, CBD is what has all the medicinal and therapeutic benefits you are looking for. Sure, hemp oil contains a few health benefits such as high omega 3 and 6 fatty acids, but aside from that, there is not near as many benefits as the actual cannabinoid compound CBD. Hemp oil is best left as a salad dressing, not a quality health supplement.
What to look for when shopping for CBD oil
If Amazon is not the place to shop for CBD, where should I buy CBD oil, and what should I be looking for?
For starers, you can shop with reliable CBD suppliers, such as Hemp Daddy's.
There are several things you should look for though when shopping for quality CBD products.
Make sure the products are third-party lab tested. These lab tests verify the integrity of the product. Suppliers with integrity will at the very least test the CBD content, to verify you are getting what is published on the bottle.
The amount of CBD per bottle/serving is clearly disclosed.
The supplier uses organic hemp, sourced in the United States. Many CBD companies import their hemp from Europe or Asia. Often times these hemp sources are tainted with heavy metals.
Look for products that are Co2 extracted, vs ethanol extracted. This is the cleanest form of extraction available on the market, it's also more expensive, so it will be reflected in the prices.
Look for Full Spectrum products. Full Spectrum CBD oil contains more cannabinoids than just CBD, including trace amounts of THC. This combination of cannabinoids creates what is called the "entourage effect," which delivers more medicinal value than a CBD isolate.
CBD Oil on Amazon: Conclusion
Definitely don't do it. Products listed on Amazon are merely hemp oil, masquerading as CBD. Even though Amazon allows products to be shown when searching the terms, CBD, don't be fooled. Your best option when buying CBD oil online is always to buy directly from the supplier.
Full Spectrum CBD Oil
We manufacture 3 types of full spectrum CBD oil products designed to satisfy various customer needs. Our lotions are designed for ease of delivery, treating specific pain areas, and is fast acting. The CBD oil is versatile and can be used orally for fast absorption, and our gel caps make for easy ingestion and a more moderated delivery over time.