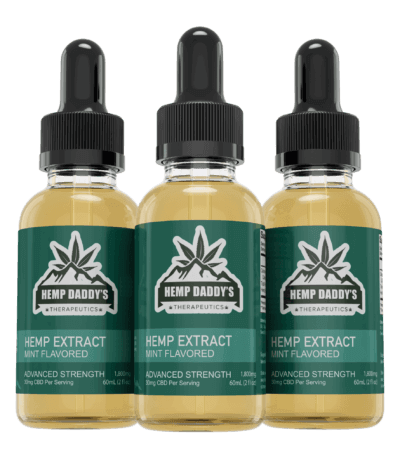 Full Spectrum CBD Oil
Taste and Feel the Difference. . .
Many companies source their industrial hemp from Eastern Europe and China, where it was grown as a 'cleansing crop' for fields laden with heavy metal. They often use harsh chemicals in their distillation and extraction processes and don't always tell you everything that's in their products.
At Hemp Daddy we're dedicated to providing you with the safest, cleanest, purest, Colorado grown, Supercritical CO2 extracted, distilled, and bottled hemp extract oil.
Our CBD oil is legal in all 50 states, contains less than .3% THC, and is non-psychoactive. Whether you are looking to heal from chronic inflammation, overcome anxiety and depression, or reduce seizure activity, CBD oil can help.
CBD Options
We manufacture 3 types of CBD products designed to satisfy various customer needs. Our lotions are designed for ease of delivery, treating specific pain areas, and is fast acting. The oil is versatile and be used orally for fast absorption, and our new gel caps make for easy ingestion and a more moderated delivery over time.